Our goal at Capital Financing is to have less back and forth when clients are seeking a Pre-Settlement advance. We have found that when law firms initiate the referral of their clients, the turnaround time and process can be much quicker.
Capital Financing has implemented a NO application policy, were we avoid subjecting your staff to additional paperwork that takes them away from other work that is more important.
Capital Financing has built relationships with law firms all over the country due to our easy origination process.  With our *TERMINATING FEES and *NO compounding interest terms, there should be no reason to consider any other finance company.
This is How it Works: Law Firm Options
When referring a client you may use one of the following 3 options:
Connect by calling Capital Financing at 888-247-6998
Our Process:
1.    With your referral, we contact your client to request treatment information & injury-related details, as well as pictures of damage.
2.   Once the intake interview is complete with the client, we contact your office by phone or email (no applications!) to request policy limits & a copy of the incident report.
3.   We confidentially confirm the information your client provided is correct, then approve an advance amount with your firm prior to sending a contract.
Please Include:
A.  Client name & phone number
B.  Amount client requested, & amount attorney approves
C.  Policy limits
D.  Name of prior lender (if client has received funding before now)
E.  Attached copy of incident report
Submit the information online via the form below
Complete the Form:
Mission Statement:  Being Fair and Reasonable is Our Pledge to Your Clients
Working with Capital Financing = More Money for Your Client at Settlement
The Capital Financing Difference: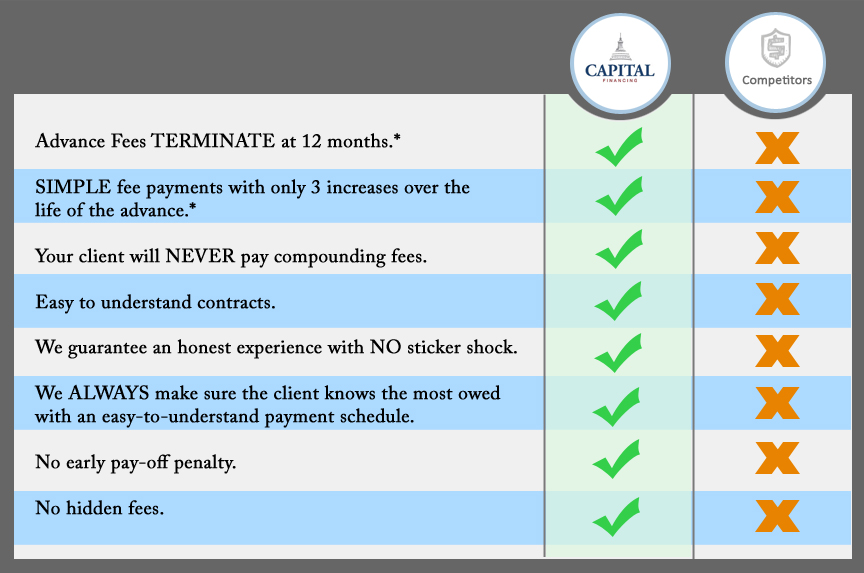 *Certain Cases Do Not Apply
After years of watching legal financing companies in this industry grow rapidly, the institution of Pre-Settlement Funding has created significant challenges for law firms. We speak daily with law firms that urge their clients not to take a settlement loan advance against their case due to the issues it will create at settlement.
In our opinion, we cannot agree more with your philosophy even though we are in the business of advancing money for lawsuits. Capital Financing should be your client's last resort when they have no other options.
Often times, however, many clients are truly faced with catastrophic financial barriers and when there is no other option but to take a cash advance, why should your client ever pay more for the same money? We believe in honoring the client, this is why we are transparent in our pre- settlement funding approach. When your client needs funding, let us be your trusted partner so they can get the help they need.
One contract to review. One company to trust. Your time is valuable- don't waste it!
Call Capital Financing FIRST so your client can take more money home from settlement!