Thank You! Your FREE Guide is On It's Way To Your Inbox!
While you wait, If you are in a situation where you have been in an accident, struggling to get by while you wait for your case to settle … WE CAN HELP! Take a few short minutes to APPLY NOW! or Call our Office, (888) 247-6998, and one of our amazing account managers can help you get the answers you need today!
Complete Application in Seconds, It's Free!
Approval within 24 hours – credit score & employment not necessary
You and Your Attorney Sign Contract
click above to receive
$1000-$50,000 I
n your bank account next day. Atlanta, GA residents may pick-up same day for FREE.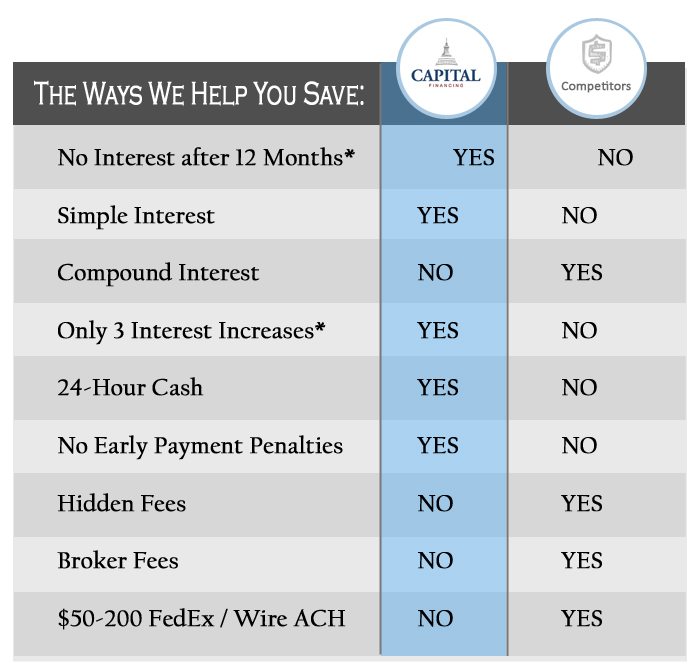 Capital Financing is a nationally recognized Pre Settlement company that stands behind the mission of helping clients when there is financial stress, without taking advantage of their situation. 
 Our trusted financial team, strives to make the process easy and hassle free.  Our commitment to provide you a legal advance in 24 hours is our attempt to help you when you need it most.  Whether you have been injured on the job or due to someone else causing your injury, we can review your case and provide a Pre Settlement Cash Advance to help you get through this difficult time. 
 When choosing a Pre-Settlement company, make sure you ask the right questions.  Choosing a company only because they are the first to approve your loan is not only risky but is financial suicide.   Making the wrong decision can cost you thousands of $$$. You should only consider a company after comparing one model vs. another.  Never work with companies that compound interest, won't be honest with their fees, or have early payoff penalties.   Also ask what they charge you to receive your money.  Capital Financing is honest, transparent, and will explain the process so you are comfortable.  Call today.