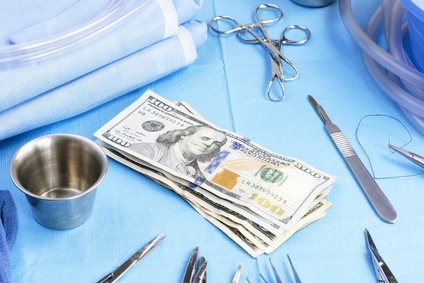 It is no secret that the cost of healthcare in the United States is outrageous. A typical doctor's visit, which lasts about an hour, costs the average uninsured individual $160. Assuming that the average uninsured individual lives at or below the poverty level, $160 is more than one-tenth of his or her income. Even for a low-middle-class individual, a $160 doctor visit can put a strain on one's financial situation. That said, a $160 well check is chump change compared to the cost of a surgery or hospital visit—both of which many accident victims often require.
The True Cost of Surgery
The cost of surgery varies drastically depending on the procedure. For instance, gastric sleeve surgery costs on average $16,000, while a heart valve replacement costs approximately $170,000. Spinal fusion, hip replacement, and knee replacement, all procedures that may follow a severe personal injury accident, fall somewhere in the middle, costing anywhere between $28,000 and $110,000. Those costs do not include the costs of a hospital visit or other expenses associated with surgery.
On average, a hospital stay in America costs $3,949 per day. The average hospital stay is about four days, meaning that a person can expect to pay $15,734 per stay. Add the cost of a stay to the cost of surgery, and take into account lost wages, child care, travel, lodging, therapy costs, etc., and the typical injured person is looking at upwards of $200,000 in monetary damages.
A Personal Injury Settlement can Help
If you or a loved one sustained serious injuries in an accident that require surgery, you may have considered filing a personal injury lawsuit. You should. However, you may worry about the cost of pursuing a legal claim. This is completely normal. Litigation can be expensive even for a person with substantial means. However, for a person with little or minimal insurance and who is out of work, litigation can be financially devastating. Fortunately, there are certain measures in place designed to ease the financial burden for injured plaintiffs.
For one, most personal injury lawyers work on a contingency fee basis, which means that you do not have to pay a single legal fee unless your case is successful. If you do not get paid, neither does your lawyer.
Another measure that helps shoulder the cost of injury is pre-settlement funding. Pre-settlement funding is a cash advance of sorts. A third party fronts a plaintiff and/or his or her attorney the funds necessary to help pay for certain expenses while the lawsuit is still pending. Like attorneys who work on a contingency fee basis, these companies do not require repayment if the case is unsuccessful. If your case is successful, you would repay the loan, plus a small fee, and use the remainder of your settlement to pay back your attorney, pay off medical expenses, etc.
Use Your Pre-Settlement Cash Advance as You See Fit
The great thing about legal funding is that you can use it however you deem necessary. Use the advance to pay for your surgery and the subsequent hospital stay. If you have funds left over, use it to pay off your outstanding rent, utility bills, car loans, and other overdue bills. If you have been strapped for cash, use the money to pay for a small feast for you and your loved ones.
At Capital Financing, we are in the business of helping injured parties obtain the funding they need to live in comfort post-accident and pre-lawsuit settlement. If you or a loved one was seriously injured in an accident, and if you had to undergo surgery and a lengthy hospital stay, reach out to our team for more information on how you can obtain a pre-settlement cash advance.