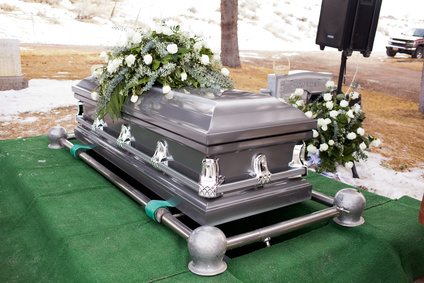 According to SmartAsset, the average cost of a funeral in America is $7,181. That total covers the cost of viewing, embalming, burial, hearse, transfer of remains, and other service fees. It does not, however, cover the cost of flowers, a catered lunch, or other common post-mortem celebration expenses. Then there is also the cost of travel, lodging, and special clothing to consider. According to the experts, the expenses associated with the celebration of life often extend well into the thousands of dollars range, and typically breach the $10,000 mark.
The cost to lay a loved one to rest was not always so exorbitant. In fact, it was only little more than a decade ago that the cost of a funeral skyrocketed by nearly 30%, from $5,582 to $7,181. From 1980 to 1989, the average funeral costs rose by a whopping 87%. Unfortunately, we live in the present, and the truth is that, when a loved one passes away, it creates a financial burden. This is especially true when a loved one passes unexpectedly and as a result of a personal injury accident.
Losing a Loved One
If a loved one was involved in an accident caused by another person's negligence, and if he or she accrued outstanding medical expenses prior to his or her passing, you understand better than most the very real impact that negligence can have on one's financial situation. Your loved one may have realized it too and begun a personal injury claim in an attempt to recoup compensation for his or her damages. However, if before the claim could come to a close, your loved one passed as a result of complications from his or her injuries, you may be at a loss as to what to do. In addition to having to come up with the money for a proper goodbye ceremony, you also have to pay off those medical expenses and other expenditures accrued post-accident.
Fortunately, the law allows you to resume a deceased person's claim via something called a "survivor claim." A survivor claim differs from a wrongful death claim in that it is brought on behalf of the deceased to recover damages for injuries acquired while he or she was still alive. Damages may include medical expenses, lost wages, therapy expenses, and pain and suffering. If your loved one was already embroiled in a personal injury claim, it may be more beneficial for you to follow through with the claim than to start a brand new wrongful death suit.
Survival Torts do Not Cover Funeral Expenses
It is important to note that survival claims, by their very nature, do not cover funeral expenses. However, that does not mean that you are out of luck. You can still get the assistance you need for your loved one's burial via pre-settlement funding. Legal funding is not a loan. Rather, it is non-recourse funding that a third-party fronts you based on the merit of your case. If you are approved, you can get your advance within as little as two hours.
If your case is successful, the third-party company will recover the amount you borrowed plus a small fee. However, if your case is unsuccessful, you do not have to worry about paying back a dime. The goal of pre-settlement funding is to free up your finances while your case is pending, not add more stress to your already stressful situation.
At Capital Financing, we are prepared to lend you as little or as much money (up to $100,000) as you need to make it through this difficult time in your life. Whether you need $5,000 to pay for a nice funeral or the full $100,000 to pay off outstanding medical bills, contact our office today to see why pre-settlement funding may be right for you.