Attorneys:
TRAUMATIC BRAIN INJURY (TBI) LITIGATION FINANCING
Are Your Client's Receiving The Most Modern TBI Testing?
Our TERMINATING interest model will allow the client to owe less at settlement compared to other company structures.

We NEVER charge your client's compounding interest.

Your firm will NEVER be required to complete an application saving your firm time and money.

To NEVER approve your client's advance without your involvement or consideration.

To ALWAYS take the blame for all denials and NEVER refer your client to another law firm.
Traumatic Brain Injury Financing Request Form
A Law Firm Has Requested-Traumatic Brain Injury Financing
Capital Financing has partnered with the nation's leaders in the medical industry to provide financing of FDA approved Traumatic Brain Injury (TBI) testing and Expert Witness Program.
The costs of litigating cases can create cash flow issues for law firms and when you include TBI reports, testing, and evaluations, these expenses can add an additional $10,000-$12,000.
Capital Financing is proud to offer a non-recourse financing structure that will cover all litigation expenses. Your firm can have the peace of mind that they are not risking their own capital to finance plaintiff expenses.
For more information on Traumatic Brain Injury testing and financing, please email info@injuryfinancing.com.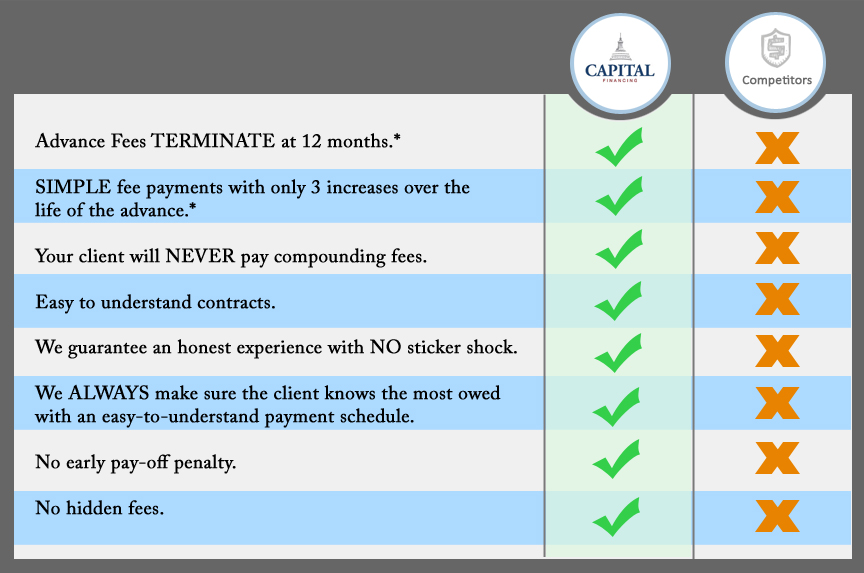 * Certain Cases Do Not Apply