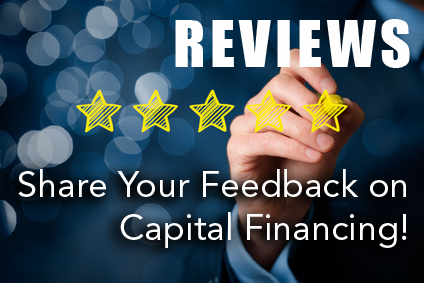 Capital Financing
Average rating:
47 reviews
Jun 10, 2019
Quick
The company is quick and responsive. Make sure check is signed before you leave the office.
Jun 10, 2019
Only one that would approve my advance in my time of need. Great People!
Jan 21, 2019
Quick and Professional
From step 1 to the end this was by far the most outstanding service! Fast approval, fast advance for my surgery! Thank you Caitlin for all your hard work!!
Jan 15, 2019
Quick Response
The process of getting an advance for our client was easy and the response time was great! Thank you!
Dec 3, 2018
Blessings
I want to say thank you Captial Financing for helping me and allowing me to borrow against my settlement. Thank you
Nov 3, 2018
Thank Capital Finacing for being consistant and professional.
Oct 8, 2018
Awesome service. No B.S lending
Howie- thank you for going the extra ten miles to get our lending approved for the full amount. Every other funding company we contacted strung us along. DON'T waste your time with other companies. This is the best.

Thank you.

Tracy
Oct 8, 2018
Outstanding
An outstanding job done by all that I was in contact with.
Thank you Caitlin for all of your help.
I am more than satisfied.
Oct 8, 2018
Awesome
I love their service. It was easy to apply. The staff were very nice, concerning, friendly and willing to explain any question I had. They did as they said, An have me an answer I feel in less than the 24 hrs they give themselves.. I appreciate their service.. Thank you all for being great customer service providers.. You did an awesome job..
Oct 8, 2018
Past Due Rent
Capital Finance came to my rescue many times during my recovery from the accident. They kept me from being homeless and put food on my table.